Naszym Klientem jest dynamicznie rozwijająca się marka drogerii, funkcjonująca na rynku polskim od 2011 roku. Szybki rozwój biznesowy stał się możliwy dzięki atrakcyjnym cenom, profesjonalnej obsłudze oraz bogatej ofercie ponad 18 000 produktów z całego świata,. Klient nie tylko otwiera coraz to nowe sklepy stacjonarne, ale prowadzi skuteczną sprzedaż online. Firma Klienta jest bardzo dobrze zarządzana, ponieważ nawet pomimo utrudnień spowodowanych pandemią Covid-19 sieć odnotowała wzrost sprzedaży o 6,4 proc., w trzecim kwartale 2021 roku.
WYZWANIE
produkt miał spełniać wymagania logistyczne, chronić cenne produkty przed dostępem niepowołanych osób,
potrzebny był nośnik wygodny w obsłudze, zarówno w centrum dystrybucyjnym, jak i wąskich alejkach sklepowych, do których docierały produkty,
biorąc pod uwagę falowe wzrosty zapotrzebowania na produkty (zatowarowanie nowych sklepów), potrzebne było elastyczne rozwiązanie logistyczne.
ROZWIĄZANIE OD ROTOM
Do współpracy z Klientem doszło w lipcu 2012 roku. Klient należał do grupy biznesowej, która współpracowała z Rotom już wcześniej w ramach wynajmu opakowań. Pozytywne efekty i zastosowanie usługi wynajmu wpłynęło na podobną decyzję w kolejnym projekcie biznesowym grupy.
Nasi specjaliści wniknęli w specyficzne potrzeby dynamicznie rozwijającego się biznesu Klienta i zaproponowali wynajem długoterminowy pojemników plastikowych typu ALC. Wynajem trwał kilka lat. Jego elastyczność polegała przede wszystkim na tym, że w miarę potrzeb ( powstawanie nowych placówek) menedżerowie logistyczni zamawiali potrzebną ilość pojemników. Jeśli nie były one potrzebne, wracały do magazynów Rotom. Ponieważ ilości sklepów stale rosły, Klient zdecydował się na kilka transzy wynajmu, w sumie około 46 000 sztuk pojemników.
Dlaczego wynajem pojemników plastikowych sprawdził się w branży detalicznej?
Wynajmowane pojemniki były wysyłane z magazynów dystrybucji do konkretnego sklepu. Towar, który w nich przewożono, zawierał wartościowe przedmioty jak perfumy,bądź inne drogie kosmetyki. Ponieważ pojemniki miały funkcję zakładania plomb, zabezpieczały towar na drodze z magazynu dystrybucji do sklepu. W ten sposób dawało to gwarancję, że osoby postronne nie miały do nich dostępu.
Niektóre z praktycznych funkcji pojemnika plastikowego z pokrywą:
Łatwy do kompletacji produktów na magazynie
Można go zaplombować, nadaje się do drobnych produktów
Świetnie się sprawdza w transporcie produktów w wąskich alejkach sklepowych (w transporcie wózkami siatkowymi lub wózkami dolly)
Ze względu na trapezowy kształt, można go gniazdować jeden w drugi w transporcie powrotnym — oszczędność miejsca i kosztów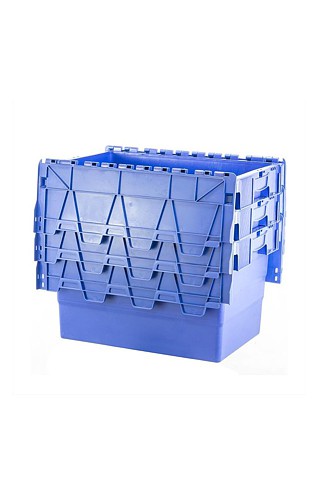 "Wynajmowany pojemnik dopasował się do łańcucha dostaw Klienta, umożliwiając sprawne i szybkie dostawy, a jego konstrukcja idealnie wpasowała się w potrzeby logistyczne branży detalicznej" (Janusz Zakowicz)
REZULTATY
Klient był bardzo zadowolony ze skutecznej i płynnej współpracy w ramach usługi wynajmu, która trwała ponad 9 lat. Umożliwił realizowanie operacji biznesowych w związku z rozwojem organizacji.
Jeśli czytając historię Klienta, zauważyłeś podobne potrzeby logistyczne swojej organizacji w zakresie opakowań, skontaktuj się z nami. Jesteśmy gotowi udzielić Ci wsparcia w zakresie analizy Twoich potrzeb logistycznych i wyboru odpowiednich opcji wynajmu dla Twojego biznesu.