Naszym klientem jest lider branży food retail w Polsce funkcjonującym na polskim rynku od 25 lat. Obecnie posiada j (na koniec I połowy 2021 r.) 3154 sklepów zlokalizowanych w ponad 1100 miejscowościach. Filarami strategii firmy są starannie wyselekcjonowane produkty (głównie spożywcze) wysokiej jakości w konkurencyjnych cenach.
W 2020 r. Klient współpracował z ponad 1000 polskich dostawców, od których pochodziło 92 proc. produktów w ofercie sieci. Obecnie firma zatrudnia około 70 tys. osób i jest największym prywatnym pracodawcą w Polsce. Wartość inwestycji Klienta w Polsce od ponad 26 lat to ponad 14 mld zł. Dynamicznie się rozwija, dziś posiada już ponad 17 centrów dystrybucyjnych, a sklepy są odwiedzane przez ponad 4 miliony klientów.
WYZWANIE
Czas pików sprzedażowych – troska o zachowanie świeżości produktów
W okresie pików sprzedażowych, np. przed świętami Klient reorganizuje logistykę w centrach dystrybucyjnych, aby skuteczniej poradzić sobie ze wzrostem liczby zamówień. W okresie wzmożonej aktywności może zdarzyć się, że zabraknie miejsca w magazynie lub nie będzie możliwa terminowa obsługa wszystkich zamówień ze względu na ograniczoną wydolność zaplecza logistycznego. Co więcej, troska o wysoką jakość wysyłanej żywności jest bardzo ważna. Wysyłka produktów spożywczych musi się odbywać w ściśle kontrolowanej niskiej temperaturze, aby zapewnić ich niezmiennie wysoką jakość. Jest to ważne, ponieważ brak kontroli temperatury podczas transportu może potencjalnie zdyskwalifikować towary i wpłynąć na niezadowolenie klientów.
Dlaczego lider handlu detalicznego w Polsce zdecydował się kontenery izotermiczne?
Kontenery izotermiczne są powszechnie stosowane w transporcie żywności w tak zwanym "łańcuchu zimna". Można je śmiało porównać do termosu – pozwalają zapewnić wymaganą temperaturę przez dłuższy czas transportu bez wykorzystania dodatkowych urządzeń chłodniczych, przez co sprawdzają się idealnie na krótkich oraz średnich dystansach. Są dobrym wyborem do przewozu świeżej żywności.
Klient miał duże zapotrzebowanie na rollkontenery chłodnicze, jednak biorąc pod uwagę porównanie kosztów zakupu i wynajmu stwierdzono, że druga opcja jest znacznie korzystniejsza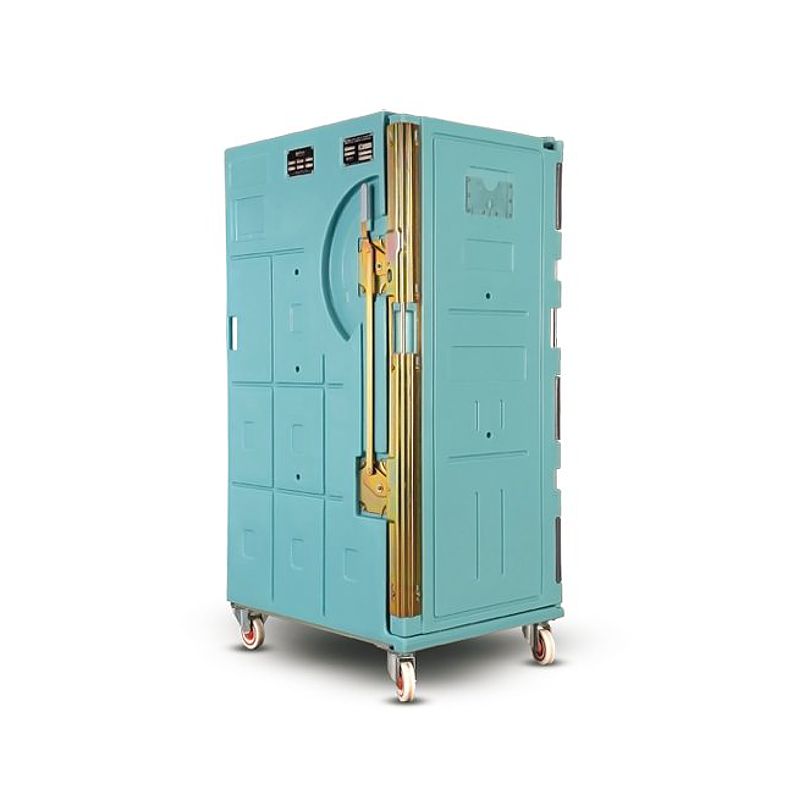 Jak wygląda model finansowania przy wynajmie opakowań?
Kontenery służące jako ochrona żywności miały być głównie używane w czasie szczytów sprzedażowych, co wiązało się z sytuacją, że opakowania stałyby pół roku nieużywane. Specjaliści ds. logistyki organizują realizację budżetu na cały rok – jest to określona kwota, którą trzeba rozważnie dysponować. Zdają sobie sprawę, że decydując się na zakup kontenerów chłodniczych, wykorzystaliby cały budżet roczny. Dlatego poproszono o zastosowanie oferty wynajmu na okres min. 3 lat, ponieważ im dłuższy jest okres wynajmu, tym stawka miesięczna jest niższa.
"KLIENT PŁACI ZA OPAKOWANIE TYLKO I WYŁĄCZNIE, GDY ONO PRACUJE"
Krzysztof Skrobot – Sales Manager
REZULTATY
Klient współpracuje z Rotom od lat widząc wymierne korzyści finansowe już od samego początku procesu. Poza tym podczas całego procesu wynajmu dbamy o wysoką jakość przywożonych kontenerów, zapewniając niezbędną naprawę i serwis. Współpraca z Rotom jest skuteczna, ponieważ podzielamy to samo zdanie na temat wykorzystywanych surowców, a wynajem opakowań zwrotnych jest rozwiązaniem zrównoważonym pod względem zasobów finansowych i środowiskowych.
Jeśli interesuje Cię wynajem opakowań, a potrzebujesz pomocy ekspertów w zakresie doradztwa i analizy Twojego łańcucha dostaw – jesteśmy dla Twojej dyspozycji. Oferujemy pełne doradztwo, naprawy oraz pełen serwis. Masz pytania? Wypełnij formularz lub zadzwoń do nas.