Klient to jeden z większych producentów AGD w Polsce. Jako oddział międzynarodowej korporacji, produkuje prawie jedną trzecią całego wolumenu w regionie Europy, Bliskiego Wschodu i Afryki. Jest to duży gracz na rynku, który rozwija moce produkcyjne swoich fabryk.
WYZWANIE
Płynna produkcja to podstawa
Ciągłość produkcji to priorytet Klienta. Gdy firma w sezonie urlopowym przerywa produkcję na 2 tygodnie, przez ten czas nie wytwarza komponentów, które muszą być dostępne non-stop. Dlatego potrzebne jest stworzenie magazynu tymczasowego, w którym znalazłyby się komponenty stanowiące pewien zapas.
Podobnie, gdy Klient postanawia przeprowadzać remont, czy konserwację maszyn, potrzebuje np. wyprodukować nie milion, tylko kilka milionów komponentów i przygotować odpowiednie miejsce do składowania.
Jeszcze inną sytuacją są zdarzenia losowe. W przypadku Klienta, w fabryce jego poddostawcy wybuchł pożar (produkcja elementów gumowych) i konieczne było zorganizowanie miejsca do składowania komponentów w setkach koszy Gitterbox.
Dlaczego kosze Gitterbox są idealnym opakowaniem dla branży produkcyjnej?
Kosze Gitterbox to solidne opakowania metalowe bardzo często stosowane w branży przemysłowej i produkcyjnej. Bardzo często wykorzystuje się je w regularnej pracy jako kosze do składowania części, podzespołów produkcyjnych lub jako opakowanie stanowiące tymczasowy magazyn w przypadku obrotu komponentów między dostawcami, lub wewnątrz tego samego zakładu.
ROZWIĄZANIE OD ROTOM
Współpracujemy z Klientem od kilku lat, oferując mu wynajem elastyczny w czasie. Jest to model wynajmu dla dużych firm, dla których obowiązuje jedna stała stawka. To dość zachęcające dla dużych graczy na rynku, ponieważ łatwo się wtedy kalkuluje koszty.
Jak usługa wynajmu wygląda w praktyce?
Firma wysyła zapotrzebowanie na określoną ilość koszy i otrzymuje od razu informacje o czasie odbioru opakowań. Ponieważ model współpracy nie zawiera w sobie ram czasowych, więc Klient oddaje opakowania wtedy, gdy nie są już potrzebne. To jest wygodne rozwiązanie, ponieważ klient zna stawkę dzienną i może sobie z łatwością ocenić, że potrzebując koszy na okres miesiąca, czy dwóch, zapłaci określoną stałą kwotę, a następnie te opakowania oddaje.
Jest to wygodne rozwiązanie, gdyż Klient nie musi inwestować w zakup opakowań. W ten sposób oszczędza się miejsce w magazynie, ponieważ opakowanie nie stoi niewykorzystane po intensywnym okresie użytkowania.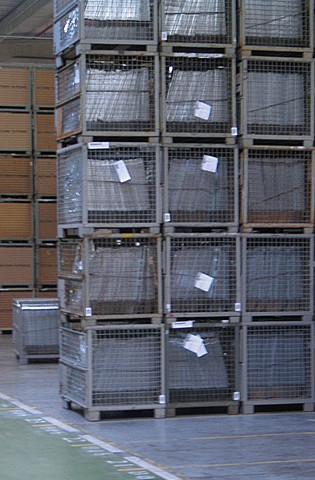 REZULTATY
Klient jest zadowolony ze współpracy z nami z kilku powodów. Przede wszystkim jest to rozwiązanie wygodne i optymalne pod względem kosztów. Takie opakowanie potrzebne jest na miesiąc, dwa, trzy. Nawet jakby Klient odsprzedał opakowania po okresie użytkowania, to byłby stratny, ponieważ koszt wynajmu jest niższy niż różnica w cenie między nowym i używanym opakowaniem.
Po drugie współpraca układa się świetnie, ponieważ zawsze dysponujemy potrzebnymi opakowaniami. Otrzymuje je zawsze na czas – dziś telefon – jutro odbiór. Staramy się mieć zawsze dostępnych kilkaset pojemników Gitterbox. Ogólnie w obiegu mamy kilkadziesiąt tysięcy nośników. Jeśli nawet nie mamy nośników używanych, to inwestujemy w zakup nowych, tak by mieć pewność, że opakowania zawsze dotrze do Klienta.
Poza tym dbamy o bezpieczeństwo opakowań, ponieważ usługa wynajmu obejmuje też serwis i naprawę. Posiadamy certyfikat EPAL na naprawę koszy Gitterbox. W ten sposób Klient zyskuje pewność, że opakowanie jest w pełni sprawne i bezpieczne do składowania w stosie.
Dlaczego wynajem opakowań od Rotom to wygodne rozwiązanie dla firm?
Wiele firm w Europie wynajmuje tylko określone nośniki np. tylko jeden typ palety. Natomiast w Rotom mamy duży zakres wynajmu różnych produktów – od palet drewnianych przez opakowania plastikowe i metalowe. Świadczymy też serwis tych opakowań -tak, by każde z nich było w pełni sprawne na każdym etapie pracy w łańcuchu dostaw.