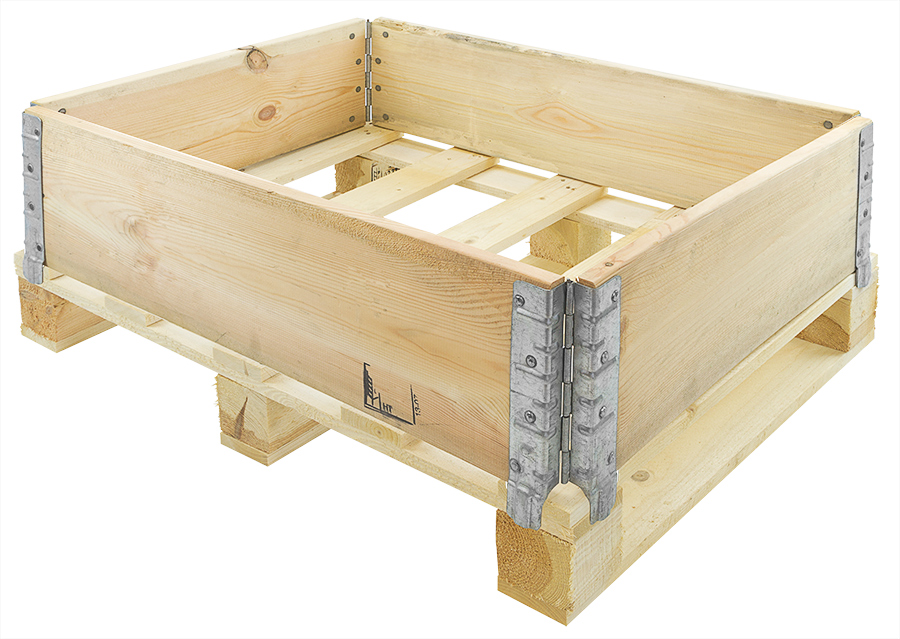 Czytaj dalej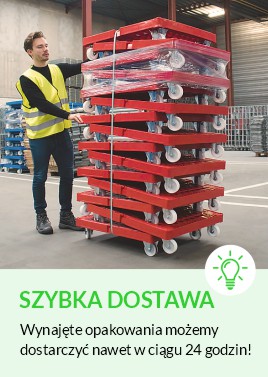 Nadstawki paletowe są nowoczesnym i wydajnym zamiennikiem tradycyjnych drewnianych skrzyń. Stanowią idealne rozwiązanie do przechowywania, pakowania i wysyłki produktów, które muszą być chronione i zabezpieczone.
Korzyści z wynajmu nadstawek paletowych
W Rotomrent możesz wypożyczyć nadstawki paletowe, które oferują bezpieczny, stabilny i tani sposób transportu. Nadstawki można z łatwością umieszczać na paletach, a także ustawiać jedna na drugiej. Pozwala to na szybkie przekształcenie palety w skrzynię lub pojemnik o dużej pojemności. Ponadto, nadstawki paletowe można składać, dzięki czemu zaoszczędzisz sporo miejsca. Rotomrent wynajmuje nadstawki paletowe odpowiednie dla wszystkich typów palet o wymiarach standardowych do palet drewnianych i plastikowych.
Innowacja oszczędzająca miejsce
Ze względu na swój unikalny design nadstawki paletowe mogą być doskonałym narzędziem do oszczędzania miejsca, zarówno w magazynach, jak i podczas transportu ładunku. Dodatkowa ochrona oferowana przez nadstawy paletowe to nie tylko sposób na zapobieganie uszkodzeniom, ale także zwiększenie wydajności magazynowania. Ponieważ można je łatwo złożyć, nadstawki paletowe nie zajmują dodatkowego miejsca, gdy nie są używane.
Oszczędność środków
Zaletą wynajmu jest to, że posiadanie nadstaw paletowych nie musi wiązać się od razu z dużymi kosztami. Nadstawy paletowe mogą pomóc zmniejszyć ryzyko uszkodzenia palet i produktów podczas transportu, co oznacza, że będziesz mieć mniej kosztów wymiany i naprawy w perspektywie średnio- i długoterminowej.
Jak wspomniano wcześniej, mogą one również umożliwić wydajniejsze pakowanie produktów, co umożliwi wysyłanie większej liczby produktów przy użyciu mniejszej przestrzeni, co ponownie obniży koszty transportu. Jeśli chcesz obniżyć koszty działalności, nadstawki mogą być świetną alternatywą.
Rotom jako doświadczony dostawca dostarcza nadstawy paletowe w standardowych rozmiarach i materiałach — drewna, plastiku czy metalu.
Standardowe wymiary drewnianych nadstawek na wynajem
Dostępne są w wymiarach 800×600, 1200×800 mm oraz 1200×1000 mm, dzięki czemu idealnie dopasowują się do standardowych rozmiarów palet drewnianych. Wszystkie z nich posiadają wysokość 20 cm. Jest to najtańszy sposób na zbudowanie bardzo wytrzymałej skrzyni, w której sam możesz ustalić odpowiednią wysokość uzależnioną od specyfiki produktu. Specjalnie dostosowane pokrywy (dekle) pozwolą na zamknięcie od góry, zapobiegną zabrudzeniu towarów oraz pozwolą na ustawianie ich w stos. Wszystkie nadstawki drewniane posiadają certyfikaty fitosanitarne IPPC (ISPM15) i świetnie pasują do oferowanych przez nas palet drewnianych w dziale palety drewniane. Posiadają również specjalnie galwanizowane zawiasy pozwalające na składanie produktów w czasie zmniejszonego ruchu, dzięki czemu nadstawki paletowe zajmują mniej miejsca. Z kolei używając przekładek wewnątrz nadstawki drewnianej możesz łatwo oddzielić swoje produkty od siebie,.
Drewniane nadstawki na wynajem doskonale nadają się do przedmiotów, które są kompaktowe, nieporęczne lub delikatne i często mogą stanowić problem, jeśli chodzi o ich przechowywanie lub manewrowanie.
Wynajem plastikowych nadstawek paletowych
Plastikowe nadstawki paletowe posiadamy w standardowych wymiarach palet – 1200×1000 mm, 1200×800 mm i 800×600 mm Stosowane są głównie w branży motoryzacyjnej oraz wszędzie tam, gdzie nie ma możliwości stosowania produktów drewnianych. Podobnie jak w przypadku nadstaw drewnianych, znacznie obniżają koszty transportu powrotnego (transport w stanie złożonym). Razem z paletami plastikowymi stanowią niezwykle wydajną jednostkę transportową.
Plastikowe nadstawki paletowe na wynajem są idealnym rozwiązaniem dla zmniejszenia masy opakowania przy jednoczesnym zachowaniu wytrzymałości. Plastikowe nadstawy na palety są łatwe do mycia i czyszczenia. Można do nich dodawać plastikowe pokrywy, by sztaplować i chronić produkty. Nadają się również do przechowywania na zewnątrz i są szeroko stosowane w branżach takich jak żywność i farmaceutyki, ponieważ zapobiegają wnikaniu wilgoci do produktu.
Wynajem nadstawek metalowych
Stanowią świetną alternatywę dla nadstaw plastikowych i drewnianych. Oferujemy je w dwóch wymiarach 1200×800 mm i 1200×1000 mm oraz w dwóch wysokościach 800 mm i 1000 mm. Solidne nadstawy metalowe mogą być galwanizowane albo malowane. Nadstawka, wspólnie z paletą drewnianą zapewnia solidną konstrukcję do transportu i przechowywania. Uchylna klapa zapewni łatwy załadunek produktów, a specjalne mocowania zapewnią możliwość sztaplowania.
Oferujemy nadstawki metalowe na wynajem, ponieważ razem z zamontowanymi do nich paletami tworzą niezwykle solidne skrzynie. Po złożeniu taka nadstawka nie zabiera wiele miejsca.