Naszym klientem jest firma handlowa o zasięgu ogólnopolskim koncentrująca swoją działalność na rynku krajowym i zagranicznym w zakresie sprzedaży surowców pochodzenia mlecznego dla potrzeb przemysłu spożywczego w sektorze B2B.
Jest to branża bardzo wymagająca pod kątem higienicznym, dlatego na każdym etapie łańcucha dostaw należy dbać o czystość nośników logistycznych. Klient cały czas rozszerza swoją działalność, wysyłając produkty do centrów dystrybucyjnych dużych firm i sieci hurtowni spożywczych.
WYZWANIE
Klient rozwijał swoją działalność i chciał znaleźć optymalne rozwiązanie w zakresie wykorzystania i obsługi palet plastikowych H1. Jest to nośnik wymagany w branży spożywczej oraz wszędzie tam, gdzie standardy higieniczne muszą być jak najwyższej jakości.
Głównym wyzwaniem była wysoka cena palet. W porównaniu do ceny palety drewnianej (około 30 zł) paleta plastikowa to wydatek minimum 200 zł za sztukę. Inwestowanie w taki nośnik ma sens, jeśli paleta funkcjonuje non stop w obiegu, wtedy koszty zakupu się zwracają. Jednak łańcuch dostaw Klienta wyglądał inaczej. Wysyłając towar na palecie do odbiorcy, nie wiadomo było dokładnie, kiedy nastąpi kolejna wysyłka lub odbiór towaru. Z drugiej strony Klientowi zależało na możliwości odebrania palet z punktu dystrybucji. W takiej sytuacji menedżerowie logistyczni zastanawiali się, czy znajdą firmę dostosowującą się elastycznie do rozwoju przedsiębiorstwa, jednocześnie odciążając pracę logistyków w firmie.
ROZWIĄZANIE OD ROTOM
Szukając rozwiązania, Klient znalazł stronę Rotomrent z ofertą wynajmu. Szukano partnera, który mógłby elastycznie dopasować swój zakres usług dla potrzeb firmy.
Projekt trwa od 2018 roku, kiedy klient zgłosił zapotrzebowaniem na wynajem kilkaset sztuk palet plastikowych H1. Na początku był to klasyczny wynajem, polegający na tym, że Rotom wynajmował Klientowi daną ilość i odbierał po jakimś czasie. W międzyczasie projekt ewoluował do postaci minipoolingu. W ten sposób doszło do współpracy w ramach umowy ramowej określającej dokładniejsze warunki obsługi. Wynajem palet jest bardzo wygodnym rozwiązaniem dla Klienta, ponieważ nie potrzebuje on szukać u siebie miejsca na składowanie np. tysiąca palet. Oprócz dostarczenia palet w określone miejsce, a później ich odbiór, Rotom dba o całą usługę serwisową.
Dopasowaliśmy się do potrzeb Klienta, więc cały proces wygląda następująco: Klient zgłasza zapotrzebowanie na palety na okres dwóch, trzech tygodni. Rotom wysyła wynajmowane palety bezpośrednio do kontrahentów Klienta, do punktu odbioru. Klient użytkuje palety, po tym zgłasza nam, po upływie uzgodnionego okresu, że palety należy odebrać. My je odbieramy i doprowadzamy je do idealnego stanu — świadcząc usługę w postaci mycia specjalnymi preparatem, a zachowanie wysokich wymogów sanitarnych potwierdzamy dokumentem.
Palety wysyłamy na terenie całego kraju do różnych placówek-chłodni, mroźni, hurtowni spożywczych.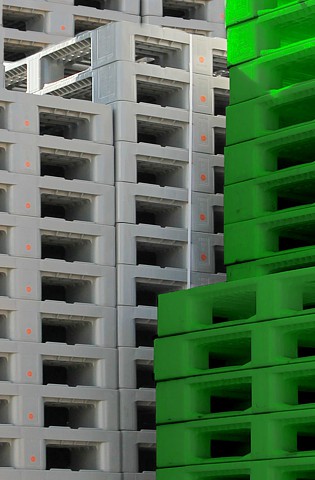 "Główną wartością projektu jest jego elastyczność. Zaczęło się od próbnego małego wynajmu, a ewoluowało w stronę kompleksowej obsługi logistycznej. Biznes się rozwija, a z nim zakres usług"
REZULTATY
Współpraca z Klientem przebiega płynnie od kilku lat. Dostawy są zawsze na czas, a proces dostaw i obsługi jest sprawdzony i wysokiej jakości. Dzięki wsparciu Rotom firma może bezpiecznie koncentrować się na dalszym rozwoju biznesowym.
Jakie są główne zalety współpracy w zakresie wynajmu?
Oszczędność kosztów
Klient nie musi inwestować w opakowania
Całą obsługą logistyczną wraz z konserwacją zajmuje się Rotom
Interesuje Cię kompleksowa obsługa w zakresie wynajmu i serwisu opakowań? Jeśli potrzebujesz pomocy ekspertów w zakresie doradztwa i analizy Twojego łańcucha dostaw – jesteśmy dla Twojej dyspozycji. Masz pytania? Wypełnij formularz lub zadzwoń do nas.