W branży spożywczej czas ważności ma ogromne znaczenie. W przypadku Klienta, działającego jako producent i sprzedawca detaliczny pizzy na rynku holenderskim, dystrybucja świeżych produktów jest niezwykle istotna. Wysoka jakość składników w połączeniu z korzystną ceną zakupów ma wpływ na popularność marki i rozwój biznesowy firmy. Aby tak się działo, niezbędna jest perfekcyjna organizacja procesów logistycznych po stronie organizacji.
WYZWANIE
Dział marketingu Klienta bardzo często planuje sezonowe akcje promocyjne. Najczęściej akcje są podejmowane szybko, w ostatniej chwili. Wynika to z faktu, że np. dany składnik do produkcji pizzy jest w korzystnej cenie i można zakupić go w większej ilości, lub też kalendarz marketingowy wymaga wykorzystania okresów specjalnych, lub świąt do działań firmowych. W takiej sytuacji logistyka po stronie Klienta musi być bardzo dobrze zorganizowana. Większa ilość dostaw wpływa na zapotrzebowanie na dużą ilość kontenerów rolkowych, pracujących w magazynach w tym intensywnym okresie.
ROZWIĄZANIE OD ROTOM
Sezonowe działania wymagają sprawnych działań. Z powodu wysokiej pilności działań najkorzystniejszy jest wynajem, a nie zakup rollkontenerów. W tym przypadku Klient zgłasza zapotrzebowanie na średnio 500 sztuk dodatkowych kontenerów rolkowych przez okres 2-3 tygodni, tak by sprostać większej ilości dostaw. Klient najczęściej odbiera nośniki we własnym zakresie z magazynów Rotom w Holandii, które są korzystnie usytuowane w niewielkiej odległości od działalności firmy Klienta.
Jaki rodzaj kontenerów rolkowych na wynajem sprawdza się w branży spożywczej?
W przypadku Klienta jako producenta pizzy w logistyce magazynowej sprawdzają się dwustronne rollkontenery o wymiarach 800 x 615 x 1485 mm i plastikowej podstawie. Ten rodzaj rollkontenera jest ocynkowany termicznie, a więc odporny na zarysowania oraz na rdzę. Dodatkowo kontener rolkowy wyposażony jest w cztery koła gumowe, które są ciche i dostosowane do powierzchni, na której wózek z ładunkiem jest transportowany. Umieszczenie towarów na kontenerze rolkowy, którego nośność wynosi aż 500 kg, to praktyczny i wydajny sposób załadunku, rozładunku i bezpiecznego transportu produktów.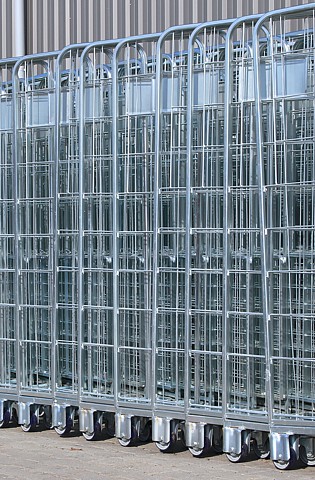 Klient jest bardzo zadowolony z usługi wynajmu, ponieważ bardzo szybko reagujemy na zapotrzebowanie Klienta. W tym przypadku firma producenta znajduje się blisko jednego z magazynów Rotom, dlatego transport z rollkontenerami dociera jeszcze tego samego dnia
REZULTATY
Dzięki temu bez względu na dużą ilość zmian, czy pilność działań, operacje logistyczne są wykonywane na czas, wpływając pozytywnie na wizerunek marki. Z całą pewnością, bez tak szybkiego sposobu na pozyskanie dodatkowych rollkontenerów, akcje marketingowe nie mogłyby się odbyć.
Jeśli szukasz partnera logistycznego, który szybko zareaguje na Twoje bieżące potrzeby, bądź Twoja organizacja wymaga dodatkowego zaopatrzenia w nośniki logistyczne, jesteśmy do dyspozycji Twojej firmy. Nasi specjaliści szybko skontaktują się z Tobą i sprawnie dobiorą odpowiednie nośniki i rozwiązania logistyczne. W tym celu wypełnij poniższy formularz lub skontaktuj się z nami telefonicznie.