Nasz Klient to międzynarodowy koncern oraz lider rynku artykułów budowlanych. W Europie zarządza ponad 600 marketami, z czego 59 placówek znajduje się w Polsce. Klient planuje dalszy, intensywny rozwój sieci sklepów. Popularność sieci marketów budowlanych Klienta wynika z dobranego asortymentu, znajomości potrzeb lokalnych rynków oraz bogatej oferty usług.
WYZWANIE
W dużych marketach budowlanych składowanie towarów na zewnątrz lub wewnątrz hali magazynowej to zawsze spore wyzwanie logistyczne. Szczególnie jest to istotne w przypadku ładunków o nietypowych gabarytach, które wystają poza obręb palety. Klient przygotowywał sklepy na czas intensywnej sprzedaży w okresie wiosenno-letnim. W tym czasie bardzo powszechne w sprzedaży są wszelkiego typu parasole ogrodowe, namioty i inne "długie" produkty wykorzystywane w ogrodach i na balkonach.
Pod koniec lutego 2020 roku nadciągały kontenery z towarem z Chin. W magazynach Klienta potrzebne było dodatkowe miejsce do składowania dużych ilości produktów. W tym też czasie "zwyczajne" wyzwanie sezonowe zostało jeszcze utrudnione pandemią i chwilowym zamknięciem sklepów. Towar trzeba było gdzieś przechować.
Co więcej, gdy skończył się lockdown i sklepy ponownie zostały otwarte, pandemia wpłynęła na wzrost zamówień e-commerce i sklep internetowy Klienta przeżywał prawdziwe oblężenie. To z kolei skłoniło Klienta do zwiększenia powierzchni do składowania, aby jeszcze szybciej dostarczać klientom zamówienia. Trzeba było znaleźć optymalne rozwiązanie do składowania.
ROZWIĄZANIE OD ROTOM
We współpracy z naszymi specjalistami Klient zdecydował się na wynajem regałów paletowych Mobilrack. Są to bardzo wygodne produkty stanowiące elastyczne wyposażenie magazynu ponieważ dzięki dopasowaniu odpowiedniej długości wsporników można na nich składować produkty trudne do ułożenia. Regały nadają się też do pracy na zewnątrz magazynu, jedynym wymogiem jest tutaj płaska i utwardzona powierzchnia. Spełniają również wysokie standardy jakości i bezpieczeństwa, potwierdzone certyfikatami TUV.
Klient w drugiej połowie lutego 2020 roku zdecydował się na wynajem regałów paletowych. Współpracujemy na zasadzie wynajmu długoterminowego ze stawką dzienną. Klient zgłasza większe zapotrzebowanie na wynajem regałów, przygotowując się na sezon wiosenno-letni. Zimą regały oddaje, ale część zostawia, aby przechować towar w nienaruszonym stanie do sezonu wiosennego.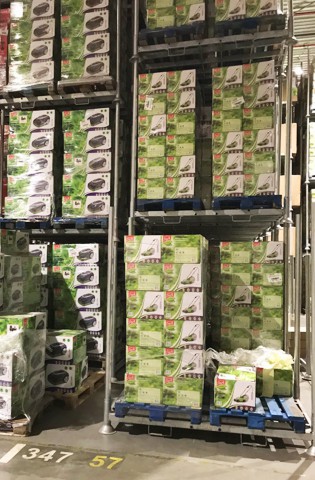 Dlaczego wynajem regałów okazał się skutecznym rozwiązaniem?
Wynajem to wygodne rozwiązanie, ponieważ nośniki są zawsze dostępne od ręki, jest to ważne w czasie zakłóceń dostaw, tak jak to było w przypadku pandemii. Klient samodzielnie ustalał wygodny dla niego czas wynajmu, warunki korzystania z niego, tak więc oferta była "szyta na miarę" jego potrzeb. W ten sposób zapis umowy na wynajem był korzystny dla obu stron, przede wszystkim opłacalny finansowo dla Klienta, który nie musiał inwestować w zakup opakowań, czy utrzymanie dodatkowej powierzchni magazynowej.
"Bardzo się cieszymy, że Klient jest zadowolony ze współpracy. Docenia fakt, że oferta wynajmu jest elastyczna, a saldo opakowań może zwiększać lub zmniejszać w zależności od potrzeb rynku. Wynajem opakowań okazał się dogodną opcją, ponieważ jest mniej zobowiązujący, a jednocześnie umożliwia skompletowanie rozwiązania spełniającego wszystkie wymagania."
REZULTATY
Czy Twoja działalność wymaga podobnego elastycznego podejścia? Jeśli nie jesteś pewien, czy dana przestrzeń magazynowa jest Twoją docelową, czy za pewien czas nie zechcesz powiększyć magazynu lub zmienić jego lokalizacji warto się zastanowić nad dogodną opcją wynajmu.
Nasi specjaliści bardzo chętnie doradzą Ci w zakresie doboru optymalnego rozwiązania. Skontaktuj się z nami telefonicznie lub wypełnij formularz, a chętnie odpowiemy na Twoje pytania.