Nasz Klient to wiodąca firma europejska z branży 3PL (logistyka firm trzecich). Logistyką towarów przemysłowych zajmuje się od 2005 roku i rocznie dostarcza ponad 35 000 pełnych ładunków. Głównie operuje na rynkach niemieckich, Beneluksu i Francji. Celem działań Klienta jest optymalizacja tras logistycznych i realizacja transportów "ostatniej mili". W licznych centrach logistycznych rozsianych po całej Europie Klient obsługuje swoich partnerów w zakresie logistyki stalowej, napojów, magazynowej czy transportu specjalnego i multimodalnego.
Wiele firm współpracuje obecnie z Klientem, zlecając swoje operacje logistyczne oraz przekazując transport, magazynowanie, dystrybucję i zarządzanie transportem.
WYZWANIE
Klient współpracuje z branżą automotive produkującą baterie do samochodów elektrycznych. Jego zadaniem jest przechowywanie tych produktów w bezpieczny sposób, tak by proces magazynowania spełniał wysokie normy bezpieczeństwa. Każda świeżo wyprodukowana bateria musi "odstać", czyli musi kilka razy być bezpiecznie sprawdzona pod kątem jakości. W takiej sytuacji idealnie sprawdzają się regały magazynowe.
Jednak wyzwanie polegało na tym, że ilość wyprodukowanych baterii różni się w czasie. Niekiedy Klient otrzymuje bardzo dużą ilość wyprodukowanego towaru, który trzeba zmagazynować. Potrzebne więc było elastyczne rozwiązanie, dające pewien bufor w zakresie przechowywania.
ROZWIĄZANIE OD ROTOM
Od grudnia 2020 roku współpracujemy z Klientem w zakresie wynajmu mobilnych regałów magazynowych Mobilrack, zarówno pojedynczych, jak i podwójnych. Wynajem jest elastycznym i wygodnym rozwiązaniem. Proces wynajmu jest korzystny, wtedy, kiedy produkt jest niestabilny ilościowo, produkcja się może zwiększać lub zmniejszać w zależności od tego ile klient otrzyma wyprodukowanych baterii. Dzięki temu zachowuje elastyczność, jeśli się dowie np., że zwiększono produkcję baterii o 30% to spokojnie może od Rotom wynająć potrzebną ilość regałów Mobilrack.
Jest to wynajem ciągły, co oznacza, że stawka za dzień jest stała, a regały paletowe są dodawane lub odbierane w dowolnej ilości (np. od 400 do 1000 sztuk) w zależności od ilości zamówień i produkcji baterii.
Dlaczego wynajem regałów mobilnych jest idealnym rozwiązaniem dla Klienta?
Branża motoryzacyjna ma bardzo ścisłe przepisy w zakresie magazynowania i regały magazynowe Mobilrack dokładnie je spełniają. Regały pojedyncze i podwójne posiadają certyfikat TUV dotyczący odpowiednich norm, które musi spełnić każda metalowa konstrukcja. Chodzi o stabilność i udźwig (do 2000 kg w regale podwójnym), który wynika z konstrukcji tych nośników. Baterie ważą od 200 do 500 kg każda, a ich przechowywanie musi być w odpowiednich rozstawach na 1m², zgodnie z przepisami BHP.
Regały mobilne z samej swojej nazwy dają możliwość pewnego ruchu, ponieważ w zależności od sytuacji można je składać i rozkładać wprost proporcjonalnie do potrzeb magazynowania towaru.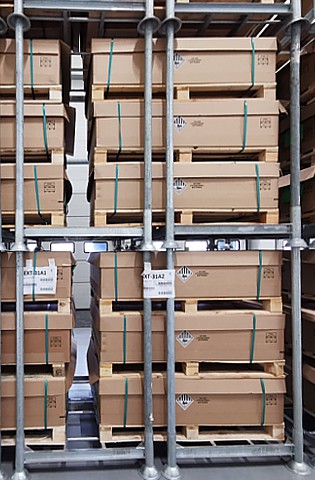 "Główną wartością dla Klienta jest elastyczność wynajmu, mianowicie fakt, że nośniki może oddawać i odbierać analogicznie do zamówień klienta. Nawet gdyby miejsce magazynowe było tanie, to sama specyfika produktu określa, że musi być przechowywany na regałach metalowych, z kolei regały powinny być składowane w sposób wynikający z przepisów bezpieczeństwa"
REZULTATY
Czy Twoja działalność wymaga podobnego elastycznego podejścia? Jeśli nie jesteś pewien, jak rozwinie się działalność produkcyjna Twoich klientów, bądź nie wiesz, czy dana przestrzeń magazynowa jest Twoją docelową, warto się zastanowić nad dogodną opcją wynajmu regałów, palet, czy innych opakowań logistycznych.
Nasi specjaliści bardzo chętnie doradzą Ci w zakresie doboru optymalnego rozwiązania. Skontaktuj się z nami telefonicznie lub wypełnij formularz, a chętnie odpowiemy na Twoje pytania.